Trainspotting
From Cinemapedia, the Movie Encyclopedia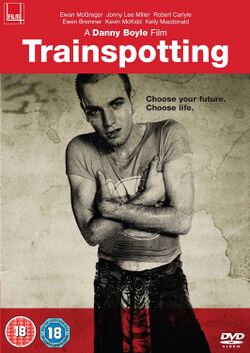 Trainspotting is a 1996 British film directed by Danny Boyle. It currently holds an 89% approval rating on Rotten Tomatoes.
Heroin addicts Mark Renton and Spud are running down Edinburgh's Princes Street pursued by store security guards. Renton's circle of friends are introduced: amoral con artist Sick Boy (also an addict), simple-minded, good-natured Spud, clean-cut athlete Tommy, and sociopath Begbie, who picks extremely violent fights with people who get in his way.
Renton decides to quit heroin and buys opium rectal suppositories from Mikey Forrester to ease the transition. After this final hit (and a violent spell of diarrhea caused by cessation of heroin) he locks himself into a cheap hotel room to endure withdrawal. He later goes with his friends to a club, finding that his sex drive has returned, and eventually leaves with a young woman named Diane. In the morning, he realises that Diane is a fifteen-year-old schoolgirl and that her "flatmates" are actually her parents. Horrified, Renton tries to shake the incident, but is forced to remain in touch after Diane blackmails him.
Sick Boy, Spud and Renton start using heroin again. Tommy, whose girlfriend dumped him after a chain of events initiated by Renton, begins using as well. One day the group's heroin-induced stupor is violently interrupted when Allison, their friend and fellow addict, discovers that her infant daughter Dawn has died from neglect without any of the group noticing. All are horrified, especially Sick Boy, who is implied to have secretly been Dawn's father.
Renton and Spud are caught stealing from a bookshop and arrested. Spud goes to prison, but Renton avoids punishment by entering a Drug Interventions Program, where he is given methadone. Despite support from his family, Renton is depressed and bored, and escapes to his drug dealer's flat, where he nearly dies of an overdose. Renton's parents take him home and lock him in his old bedroom to force him through withdrawal. As Renton goes through severe withdrawal symptoms, he has nightmares of Diane singing on the bed, his friends giving him advice, Allison's dead baby crawling on the ceiling, and an imagined TV game show in which host Dale Winton asks Renton's parents questions about HIV.
Renton is finally roused from his nightmares and hallucinations by his parents, who tell him he needs to get tested. Despite years of sharing syringes with other addicts, Renton tests negative. Bored and depressed, he visits Tommy, who has succumbed to addiction and is now severely ill and HIV-positive. Renton moves to London and takes a job as a property letting agent. He begins to enjoy his new life of sobriety and saves up money on the side while corresponding with Diane. However, Begbie, who has committed an armed robbery, and Sick Boy, now a pimp and drug dealer, move into Renton's bedsit unannounced, to Renton's irritation.
In Edinburgh, Tommy dies from HIV-related toxoplasmosis and the three travel back to Scotland for his funeral. They meet Spud, who has been released from prison. Sick Boy suggests a lucrative but dangerous heroin transaction, but needs Renton to supply half of the initial £4,000. Renton injects himself with a sample to test the heroin's purity. The four sell the heroin to a dealer for £16,000. During their celebration at a pub, Renton secretly suggests to Spud that they steal the money, but Spud is too frightened of Begbie to consider it. Renton finally has enough of Begbie after witnessing him glass and then beat a man who accidentally spilt beer over him. Early in the morning as the others sleep, Renton quietly takes the money. Spud sees him leave but does not tell the others. When Begbie awakens, he destroys the hotel room in a violent rampage which attracts the police while Spud and Sick Boy flee. Renton vows to live a stable, traditional life, and leaves Spud £2,000.
Ewan McGregor as Mark "Rent Boy" Renton
Ewen Bremner as Daniel "Spud" Murphy
Jonny Lee Miller as Simon "Sick Boy" Williamson
Robert Carlyle as Francis "Franco" Begbie
Kevin McKidd as Tommy MacKenzie
Kelly Macdonald as Diane Coulston
Peter Mullan as Swanney "Mother Superior"
Eileen Nicholas as Mrs. Renton
James Cosmo as Mr. Renton
Susan Vidler as Allison
Pauline Lynch as Lizzy
Shirley Henderson as Gail
Stuart McQuarrie as Gav Temperley
Irvine Welsh as Mikey Forrester
Kevin Allen as Andreas
Keith Allen as The Dealer
Reception
[
edit
]
In Britain, Trainspotting garnered almost universal praise from critics. In his review for The Guardian, Derek Malcolm gave the film credit for tapping into the youth subculture of the time and felt that it was "acted out with a freedom of expression that's often astonishing." Empire magazine gave the film five out of five stars and described the film as "something Britain can be proud of and Hollywood must be afraid of. If Brits can make movies this good about subjects this horrific, what chance does Tinseltown have?"
American film critic Roger Ebert gave the film three out of four stars and praised its portrayal of addicts' experiences with each other. In his review for the Los Angeles Times, Kenneth Turan wrote, "in McGregor ... the film has an actor whose magnetism monopolizes our attention no matter what". Entertainment Weekly gave the film an "A" rating and Owen Gleiberman wrote, "Like Scorsese and Tarantino, Boyle uses pop songs as rhapsodic mood enhancers, though in his own ravey-hypnotic style. Whether he's staging a fumbly sex montage to Sleeper's version of Atomic or having Renton go cold turkey to the ominous slow build of Underworld's Dark and Long ... Trainspotting keeps us wired to the pulse of its characters' passions". In her review for The New York Times, Janet Maslin wrote, "Trainspotting doesn't have much narrative holding it together. Nor does it really have the dramatic range to cope with such wild extremes. Most of it sticks to the same moderate pitch, with entertainment value enhanced by Mr. Boyle's savvy use of wide angles, bright colours, attractively clean compositions and a dynamic pop score".
Rolling Stone's Peter Travers wrote, "the film's flash can't disguise the emptiness of these blasted lives. Trainspotting is 90 minutes of raw power that Boyle and a bang-on cast inject right into the vein". In his review for the Washington Post, Desson Howe wrote, "Without a doubt, this is the most provocative, enjoyable pop-cultural experience since Pulp Fiction". Jonathan Rosenbaum, in his review for the Chicago Reader, wrote, "Like Twister and Independence Day, this movie is a theme-park ride – though it's a much better one, basically a series of youthful thrills, spills, chills, and swerves rather than a story intended to say very much". Trainspotting has an 89% "Certified Fresh" rating on Rotten Tomatoes and an 83 metascore on Metacritic.
Its release sparked some controversy in some countries, including Britain, Australia and the United States, as to whether it promoted drug use or not. US Senator Bob Dole accused it of moral depravity and glorifying drug use during the 1996 US presidential campaign, although he later admitted that he had not seen the film. Despite the controversy, it was widely praised and received a nomination for Best Adapted Screenplay in that year's Academy Awards. Time magazine ranked Trainspotting as the third best film of 1996.
See also
[
edit
]